Baby photo session - Paris
Thank you for considering me to take such important images of your baby. I am passionate about documenting your family's journey through gorgeous photos. Never miss a moment and get the most beautiful pictures of your baby, coming to my professional studio near Paris.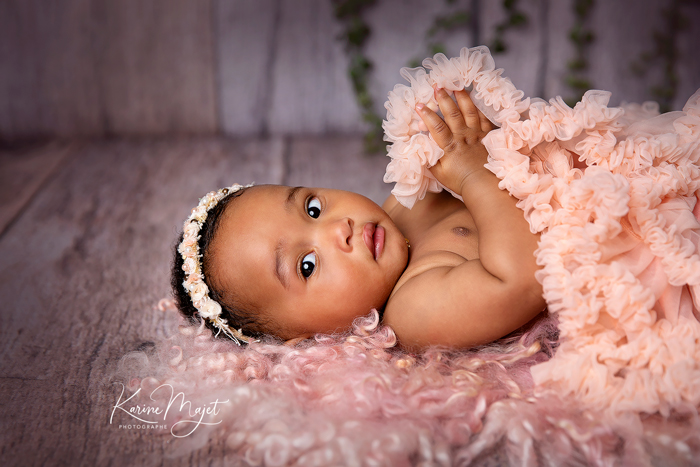 Capturing all of your baby's scrummy details with simple and natural photographs. So you can remember how little and how cute he was at this age. 
Is it time for your baby's first photoshoot?
Baby photo shoot is between the 4th month and the 3rd year of your child. Every age is beautiful: your baby grows, opens up to life and has fun. That's all that makes these photo shoots unique!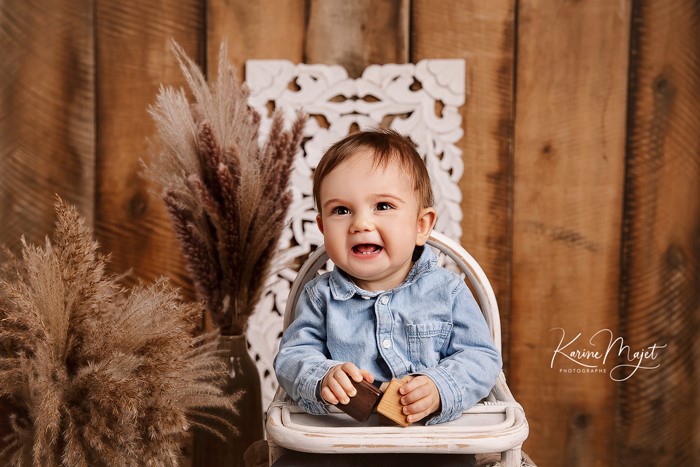 How is a baby photo shoot going?
The shootings take place mainly in the studio and we prepare beautiful scenes with a large choice of decorations: wooden board, wall of pink flowers, romantic atmosphere. I also provide white, pink, green and beige backgrounds. The photo session lasts 1 hour, since your child is still young and gets tired quickly.
To start with, a mini portrait photoshoot of your baby takes place to capture his many expressions, and to give you a beautiful memory of your child. We then take some family pictures, with parents and siblings.
With pretty outfits, we can make beautiful photos of your child. Indeed, you can choose in my wardrobe among 200 outfits for girls and boys (4 months to 3 years). There are overalls for boys and tutus and beautiful designer dresses for girls. These clothes allow you to change your style from your everyday life.
Your child will evolve so much between 4 months and 3 years! This is why it is important to adapt to his development to offer props adapted to his age.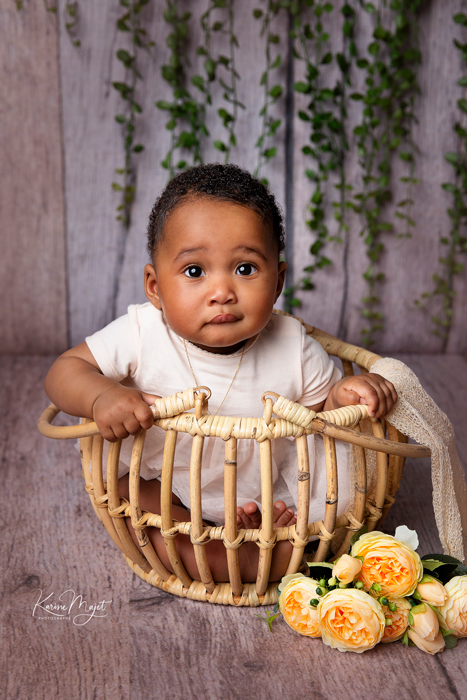 How do we dress for baby session?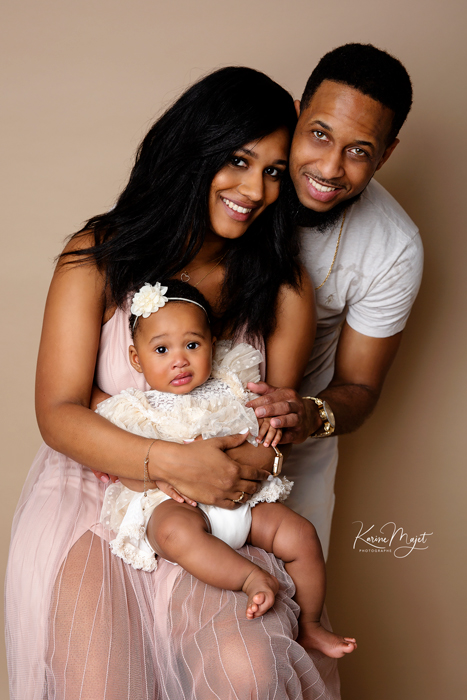 Choose coordinated clothing. Whether they are light (beige, white, grey, light blue) or dark (burgundy, anthracite grey, black), you must above all feel comfortable.
If you wish, you can also come in a sailor or jeans and T-shirt. 
Plan 2 outfits for adults and 2 to 3 outfits for your baby. In addition to what you bring, you can take dresses in my closet (for moms) and baby clothes for your children.
When can I book a baby photo shoot?
I offer baby milestone sessions on Monday to Friday. The best is to book a couple of months ahead to ensure availability.
The younger your baby is, the more I invite you to come in the morning. Indeed, it is the perfect time for your baby to be in great shape and to be able to fully enjoy the moment without being embarrassed by a nap or the afternoon tea.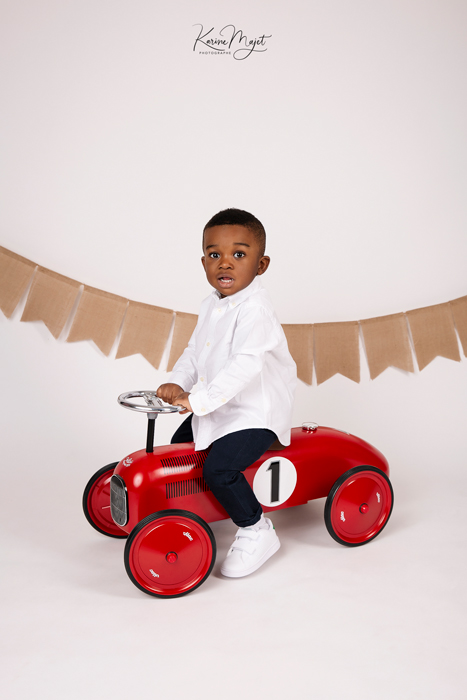 I offer premium quality mounted art prints, canvases and acrylics to fill the walls of your home. You can also choose lovely albums in linen and even wood or acrylic. Check out product page for more information.