Your family story is priceless. That's why we want to honor that with you with beautiful pictures. Indeed, the first weeks at home with your baby is such a step in your life. You are in your family bubble, completely overwhelmed with emotions, your heart filled with the presence of your child.
Having your newborn photography session in Karine Majet studio will be a great way to remember the very first days of your precious baby. From start to finish, Karine Majet will guide you to get the most incredible images: family pictures, with siblings and your baby alone, in tiny props. As Karine Majet has been there before, she will guide you all through the session.
She takes care of the baby need for feeds, changes and also cuddles. As a professional newborn photographer, we will manage your baby, to get a nice and comfortable newborn photo session.
Professional photo studio
Karine Majet welcomes families in a professional photo studio, 15 minutes away from Paris. It is near the shopping center of Velizy 2, on the South-west of Paris. You can either come with N118 or A86 roads.
What kind of services do you offer?
On 100m², you have a private room, with a sofa, TV and a children's corner full of games. A changing table is available for your use.
A large dressing rooms is also available with 100 props for baby boys and baby girls.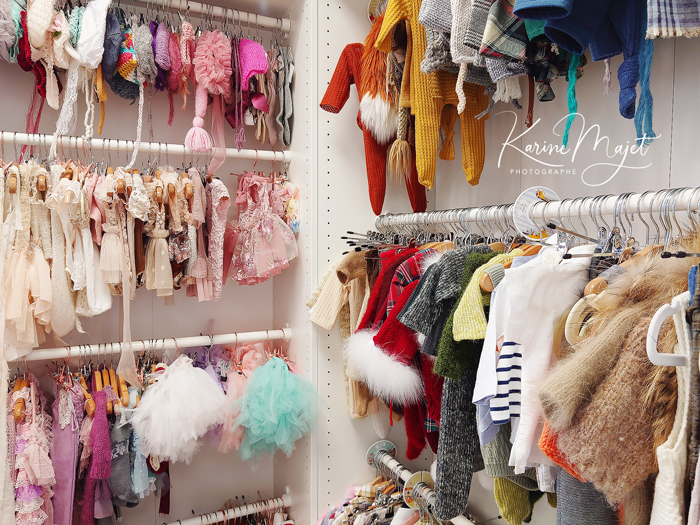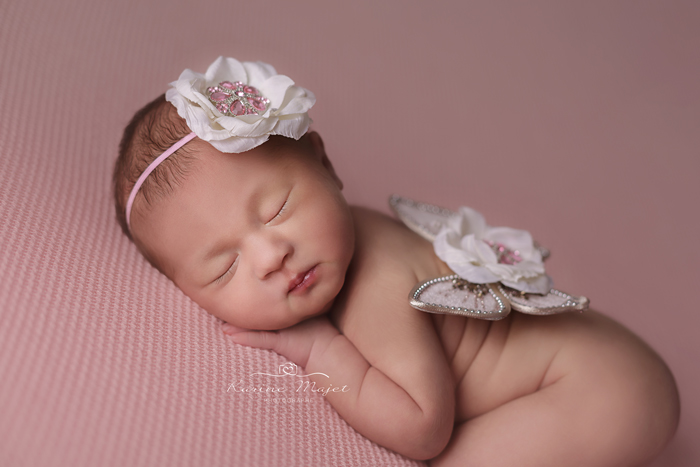 When should I book a newborn photo session?
It is better to book newborn session with a newborn photographer when you are 5-6 month pregnant. In order to offer non-rushed photo shoot, Karine Majet only books a limited number of shootings per week.
Booking your session in advance allow you to be on her photo shoot schedule. After the baby is born, you will be able to pick up the best time before the first 20 days.
The newborn formula is intended for babies from birth to 4 months. You will see that your child will develop quickly and go through several stages. Depending on the style of photos you want, here's what you can do.
I emphasize that if you are too tired or if your baby needs care, you can come a little later with your child. We will make wonderful photos. Everything does not stop when your baby is two weeks old, fortunately!
How long does a newborn photo session last?
The secret to get a great newborn shooting is to take enough time to welcome your baby. Sessions always starts with breastfeeding or bottle-feeding. Then, you child needs to burp before dozing off. You have time to pick some lovely baby props in Karine Majet's dressing. And then, you will start with family and siblings' pictures. The second part of the shoot is dedicated to your baby only. 
A newborn photo session last about 2 hours.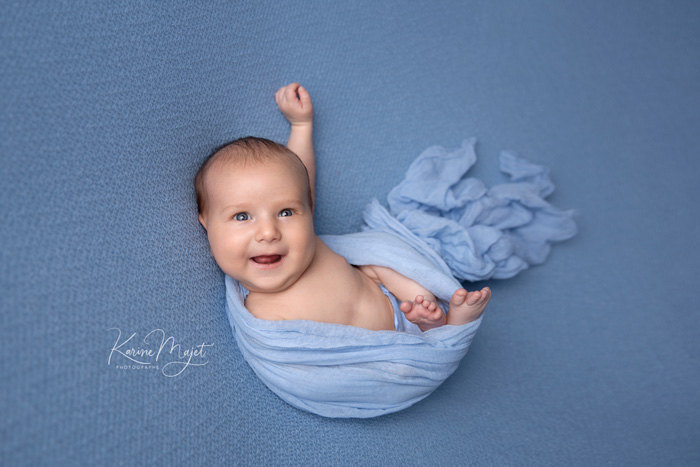 As each family is different, you can choose either "standard" and "advancée" edit. 
Karine Majet has bought a large number of props to get the most incredible images. You can select items directly in the studio: beds, prams, sofas, wood and bamboo baskets, and so much additional props! Everything is dedicated to newborns.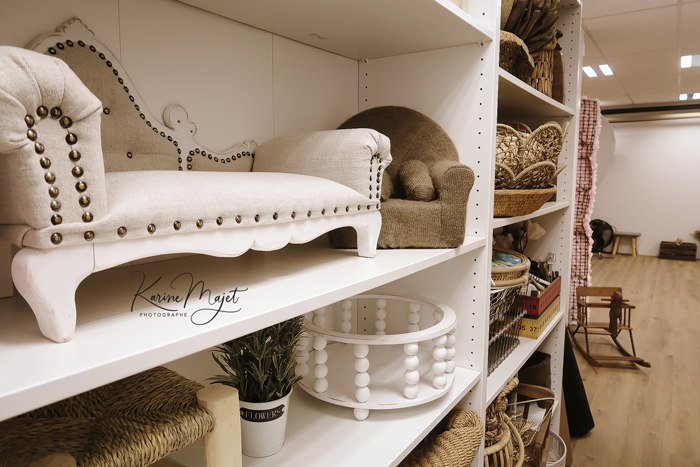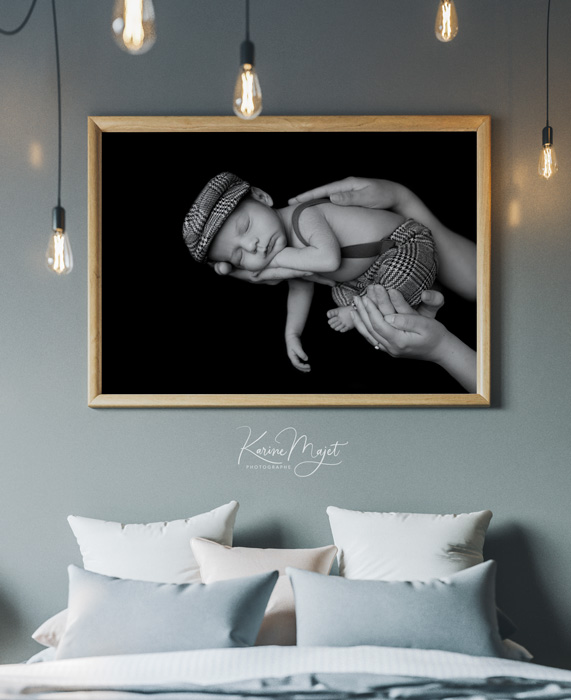 Black and white photos create fantastic memories. These images can decorate your home and give a timeless touch to your favorite photos.
In addition to the staging done in the studio, you can choose from a photo-montage library. These images come in addition to the photos included in your package.
What if my baby boy is circumcised?
You should organize yourself with this celebration, as circumcised babies do not feel at ease up to 5 days after. Please, contact Karine Majet and let her know before the baby is born.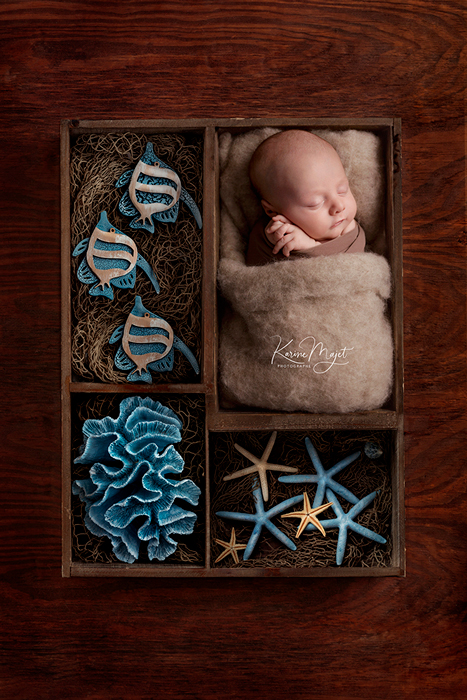 What about family pictures?
Your elders are welcome! Contact me before the birth shoot to give me more information about the age of the siblings. If they are young, newborn will be in a prop next to them. If they are older than 6, they can hold their little brother or sister. And in general, they are so proud!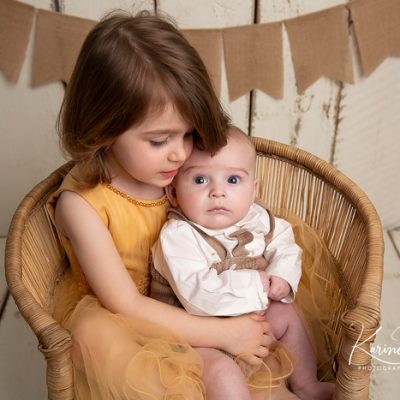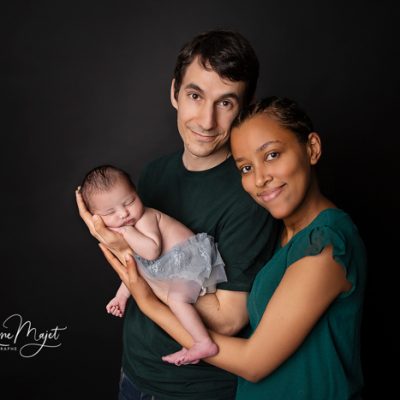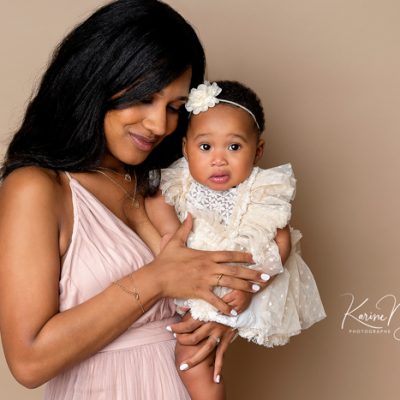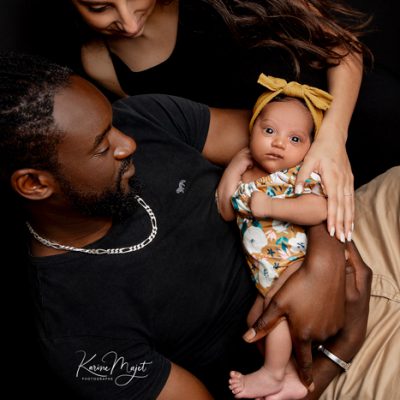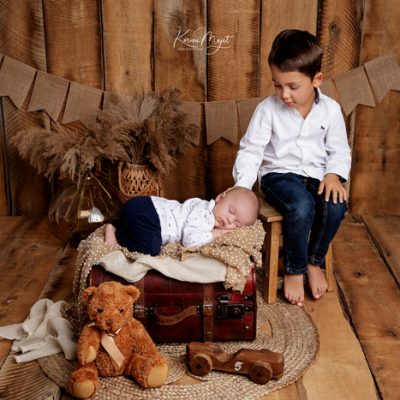 The photo book is a wonderful gift for your child. The first days of his life, in a beautiful setting that you can browse together. That is why I propose you books made to last, with cardboard pages, of professional quality.
Whether in wood, leather or printed fabrics, choose the photo book of your dreams. Discover the range of professional albums by clicking here.